You want to transform your current process and move to custom drones?
Squadrone System tells you everything you need to know before starting a custom drones project.
Drones are used in many sectors such as logistics, industry, or agriculture. They can help you gain operational efficiency and get a quick return on investment. At Squadrone System, we choose to engage the resources of our design office on custom drone projects that bring you real gains. To help us choose among all the process automation use cases that our clients wish to address, we have drawn up a checklist to verify that your process is automatable.
This is our checklist:   
Know perfectly the performance of your current process: identify all the resources (financial, material, human) used in your process.
Identify the performance of your process and its throughput
Identify the problems encountered with your current process and the bottlenecks
Areas for improvement: identify the areas that have a direct impact on the performance of your process and those that have an indirect impact on performance but represent real challenges for your company:

Security
Cost
Frequency
Delay
Time

Estimate the complete costs / risks / delays of the existing process: in order to validate or not the economic equation of a custom drone solution
Prioritize your motivations: What are your motivations to develop a drone solution?

Save time?
Gain in cost ?
Quality gain ?
Operational efficiency ?
Innovate for your customers ? Its partners ?
Gain a competitive advantage?

Formalize a hypothesis for using a drone solution to transform your process: 

Required functionality and level of performance by functionality
Desired additional functionalities
Associated services
Training and level of autonomy desired with the drone solution

Express your performance expectations:  
What is the expected performance level of a custom drone solution as a demonstrator/POC? For a generalization of the solution?
Finally, express in a natural language the different steps of your process in a complete and very detailed usage scenario. 
Are you having a problem evaluating your process automation? Do you need help? 
How do you adapt custom drones for the enterprise?
Each custom drone solution is adapted according to the control mode, the operating environment, and the performance. Squadrone System acts on these parameters in depth.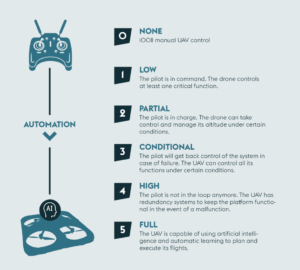 At Squadrone System, we support you in the realization of your project. We design and produce custom drones to enable you to gain productivity and innovation.  Our design office designs very different architectures of drones to meet specific use cases.
Some examples of performances :

Our goal?
To enable you to achieve real gains in terms of security, operational efficiency and return on investment.