The market for professional drones continues to grow, with more and more uses adapting to the demands of companies. Professional civilian drones are now real tools, and not only for the audiovisual industry. Indeed, professional drones can be used in many other sectors, including agriculture, security, surveillance, thermal inspection, photogrammetry, etc…
Here is a summary of our professional drones:
Professional drone – inspection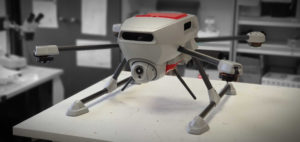 With our Apach drone, carry out many professional missions such as visual control, visual or RFID stock control or day and night inspection.
Thanks to the many sensors, components and software functions that can be associated with it, Apach can be adapted to all outdoor environments to perform a wide range of missions.
To learn more, visit our page "Inspection drone – Apach ".
For indoor environments, our Clover drone is the ideal platform for industrial and professional users to monitor and inspect. The indoor drone has seen amazing progress in recent years and 2021 will see a significant acceleration in these aspects. Not only can indoor drones move more and more autonomously, but they do not enter the airspace and are therefore usable by manufacturers with minimal constraints. They are the most popular tools for monitoring production processes, controlling stocks, or moving objects automatically.
To learn more, visit our page " Indoor Drone – Clover".

Professional surveillance drone
The Crow platform was designed for aerial action, making it an extremely versatile drone that can integrate experimental or mature payloads of any kind.
It breaks records for acceleration, reactivity and velocity. Crow offers high flight performance (automatic flights) as well as a carrying capacity of more than 6kg; all the assets for professionals in demanding outdoor use cases.
To learn more, visit our page " action surveillance drone – Crow".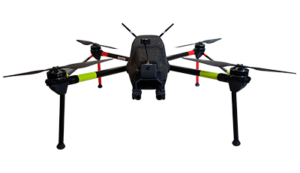 Professional drone transport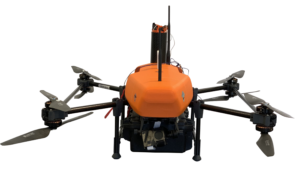 Our Stork platform is a turnkey solution consisting of a drone for transport in an outdoor environment.
It is capable of automatically transporting material over several kilometers (up to 10 km) with a speed of up to 60 km/h. STORK offers many advantages for professionals who want to explore the use of transporting content by air in a safe and automated way.
To learn more, visit our page "Transport drone – Stork".
Drone simulation
With professional drone simulation, develop, test and validate your drone applications in a simulated environment to accelerate the deployment of automated drones. You will save time in development and quality. Drone simulation also allows you to test "limit" or extreme cases. Test your solutions in complex environments without the need for access to real terrain.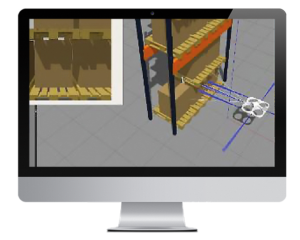 To learn more, visit our page "Drone Simulator".